Programs & Instruction
The Harder you Work, the Luckier you Get!
Golf Lessons - Individual or Group
Hawthorn Woods Country Club offers all members the opportunity to improve their game through individual or group lessons. The club has four golf professionals on staff, lead by PGA Head Professional Greg Roberts. Members may purchase one-off lessons or choose from multiple lesson packages. Packages may include one lesson per week, throughout the season (May thru October) or a more affordable one lesson per month.

Indoor Golf Simulators
Are you looking to improve the fundamentals and bring out your highest potential in your golf game? Golfers can now take advantage of indoor golf instruction utilizing our two new GCQuad Virtual Golf Simulators! Services include (but are not limited to) custom club fittings, advanced golf instruction, practice time, 9 hole rental, 18 hole rental and more!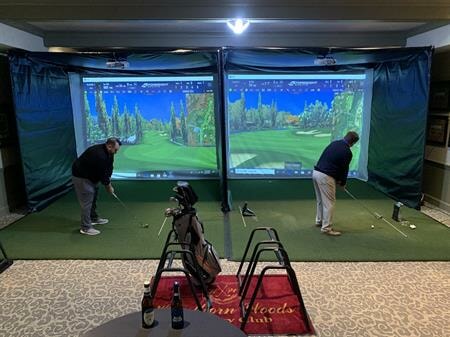 For more information, please contact Golf Shop at (847) 847-3259 or contact Head Golf Professional, Greg Roberts at groberts@hwccgolf.com

Northern District Golf League
The Northern District Golf League is a league of ten country clubs that conduct match play competitions between the months of May-September. Each club hosts the other nine once a year and the season long competition culminates in a year end 'Roundup Event'. League clubs include - Royal Melbourne CC, Glen Flora CC, Inverness GC, The Grove, Twin Orchard CC, Medinah CC, Kemper Lakes GC, Biltmore CC and McHenry CC.


2019 Event Schedule - Click Here

For more information, contact Team Captain Dan Jones dwjones7@comcast.net or call the Golf Shop at (847) 847-3259

Practice Facility Highlights

You will be hard pressed to find a better practice facility in the area. The one-acre driving range offers Members the chance to hone their golf swing while aiming at four (4) green targets. The practice facility also boasts large chipping and putting greens, conveniently located just beyond the Clubhouse and adjacent to the practice tee. Members can practice up to 45 yard wedge shots or bunker shots at the chipping green and hone their putting skills on the over 100 foot putting green.